About the Camp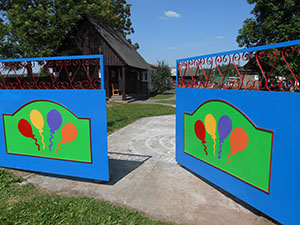 The summer camp project is one of the Belarusian Children's Hospices' many projects, and providing volunteers has become the 5C's main drive. We have been involved in the volunteer teams running the camp for over 15 years. All volunteers give their time and money to be part of the project, so that all fundraising can be donated directly to the Hospice to help cover costs of the summer camp.Belarus' health and social care system is far behind the rest of Europe and therefore needs the support of those outside of the country to support and aid development.
The camp is a specially adapted holiday complex in the countryside about an hour's drive outside Minsk. It provides a unique opportunity for children and young people associated with the hospice to have a summer holiday and meet others in a similar situation to themselves. For some of those attending this may be their first time away from home, their first time spending long periods outdoors, an opportunity to make life-long friends. Whilst staying at the camp, the parents of the children and young adults get some well deserved time to themselves, as they are often carers to their children.
The project runs from June to mid-September and volunteers stay at the camp through-out their trip. The volunteer group works as a team to organise the structure of the day, activities and games, chores etc. The team is made up of hospice staff, Belarusian volunteers and international volunteers. Each volunteer is usually assigned a specific child or young adult, who's personal care needs and wellbeing they are responsible for as needed. However, most of the day is spent doing activities as a group.
Aside from this, two weeks of the project is dedicated to siblings of those associated with the hospice, which allows them some time away from what can be a challenging home life. In addition, a purpose-built portion of the camp houses up to 3 families for 2 week periods over the summer. The families are not under the care of the volunteers, however the children, siblings and parents often join in with activities too!