What We Do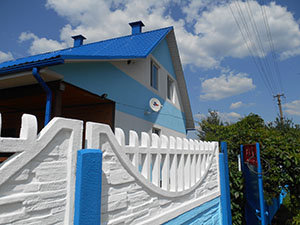 Chernobyl Children Cancer Care Cardiff (The 5Cs) is a non political, non denominational, Cardiff based charity that is officially twinned with the Belarusian Children's Hospice in Minsk, the capital of Belarus.
Our main purpose is working with the Belarusian Children's Hospice and its Summer Camp Project. The Summer Camp programme is situated in Zabrodia, a small village 60km west of Minsk and runs from June to September. As a charity we provide volunteers for hands on help over the summer, as well as financial support to the camp and other hospice projects where we can, through fundraising and donations. Our volunteers work alongside volunteers from Belarus and all over the world. The majority of our members have first-hand experience volunteering in Belarus, and most are under the age of 25.
Our charity is registered with the charity commission and our objectives are "to assist in the treatment and care of children and young adults under the care of The Belarusian Children's Hospice in Belarus by providing financial support and volunteers wherever possible to assist in providing facilities, support services and equipment not normally provided by the statutory authorities".
We work closely with the Friends of the Belarusian Children's Hospice (UK). For more information, click here.